Currently in production
The untold WWII stories of the men, women, and children of Normandy, France, who lived through German occupation, the D-Day invasion, and the liberation by Allied forces — and their effort to "never forget."

This story begins in Normandy, France, where Dany Patrix and other survivors of the D-Day invasion share personal reflections and untold stories of living under German occupation and being liberated by Allied forces in World War II.

We follow Dany from her first interaction with an American soldier on D-Day, to her current experiences of thanking World War II veterans and their modern-day replacements.

Follow our film's journey by visiting our website: thegirlwhoworefreedom.com.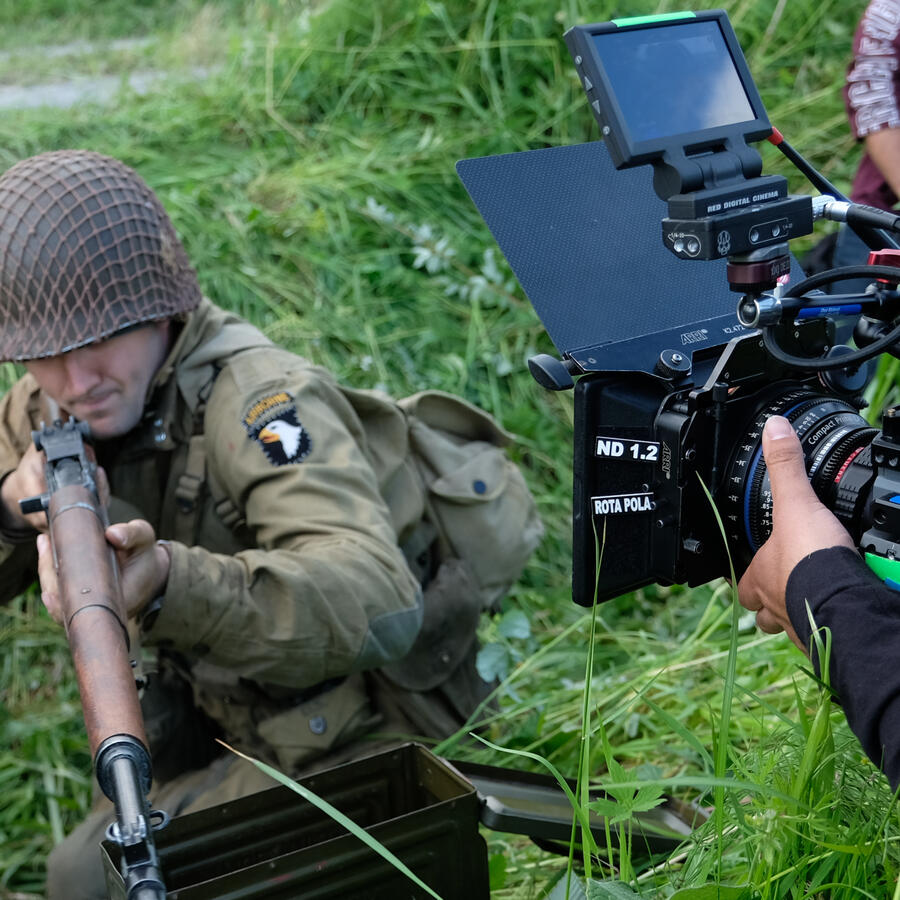 About
Tailored to make you shine…
Whether you need a stellar on-camera & VO talent or a game changing producer, casting director, acting coach & talent consultant – Christian Taylor is your girl. She has a BFA in Theater from The Catholic University of America, toured with The National Players, worked in radio and television news production on Capitol Hill, and in film, TV and commercial production in New York and Chicago.

Christian's extensive experience and working knowledge of both the talent and the production side of projects lends her unique credibility and a skill set second to none. She can't wait to tailor her services to your specific needs, to get you results and help you and your project shine. So, c'mon, hire her. You know you want to.

Production Services
---
Producer
When Christian is not voicing projects for Johnson & Johnson, Shell or Kohler or starring in training videos for Walgreens or Kohl's, she can be found field producing for NBC, Inside Edition or E!, casting for organizations like the Brookfield Zoo and Awana International, teaching acting to high school students or helping new talent kick off their career in the entertainment industry. Her experience as a talent makes her a valuable part of any production team.

Christian's recent projects include EPKs for E! and NBC covering NBC's new hit shows Chicago Fire and Revolution. She's also produced several recent pieces for Inside Edition and assistant produced a documentary for the California Department of Public Health, a TV commercial for the Brookfield Zoo, and a TV talk show pilot.
Director
The Girl Who Wore Freedom is Christian's directorial debut. To learn more about The Girl Who Wore Freedom [visit the film's website].(https://thegirlwhoworefreedom.com)
Casting Director
Christian's recent credits include castings for Awana International, Brookfield Zoo, Hunter Douglas and Zondervan Publishing. Christian's performance training and work in front of the mic and camera, paired with her behind the mic and camera experience, gives her unique credibility at the casting table.
"Christian helped us produce a series of pilot episodes of a proposed talk show. She organized the project, identified and assembled the crew, and managed the shooting days with professionalism and a great , infectious enthusiasm. She is a joy to work with!"

==Phil Vischer – Creator of Veggie Tales, Executive Producer Jellyfish Labs, philvischer.com==
"Christian's warm personality along with knowledge of the casting process as both talent and casting director make the process a pleasant experience for both the producers and the talent. She understands the perspective from both sides and is able to put the talent at ease, making way for great performances and giving the project the best options for on screen
talent."

==Sandra Gordon – Executive Producer, Top Bunk Entertainment==
"Working with Christian was always a pleasure. She is a constant professional, very accessible, approachable, and conscientious and a good communicator. Her skills as a producer are seasoned and polished."

Catherine Sherrier – Applied Creative Training
---
Talent Services
When Christian isn't taking on full production work, she's actively performing and contributing to projects directly. Here are a few of the many talents that we can bring to your project:
Voiceover
Christian has lent her voice to numerous radio, TV, film, audiobook and non-broadcast projects. Hear samples of her work at neighborladyvo.com.
---
Actor
Like many actors before her, Christian's acting career began in made- for-the-living-room dramas performed for her parents and their friends. Her love for drama was nurtured at the Theatrical Arts Society of The Stony Brook School in New York and grew to maturity at The Catholic University in Washington, DC where she graduated with a BA in Drama in 1988.

After college, Christian was cast in Tour 40 with National Players as Hero in Shakespeare's "Much Ado About Nothing" and Muriel the Goat in George Orwell's "Animal Farm." National Players is the nation's longest-running theatrical touring company, now in its 65th season.

Christian is a member of SAG-AFTRA and has been performing on stage and screen for over 30 years with many credits to her name. You will find her resume here.

Christian can be found each week on The Holy Post Podcast – a fast-paced and often funny conversation about pop culture, media, theology and the endless fun of living a thoughtful Christian life in an increasingly post-Christian culture. Tune in weekly for the latest conversation. Subscribe on iTunes.
---
Model
You may have caught glimpses of Christian on an endcap advertisement in Walgreens, a pamphlet in your doctor's office, a women's clothing catalogue or on a website you recently visited. Christian has found niche working as a print model in Chicago's healthcare industry and is always looking forward to her next booking.
---